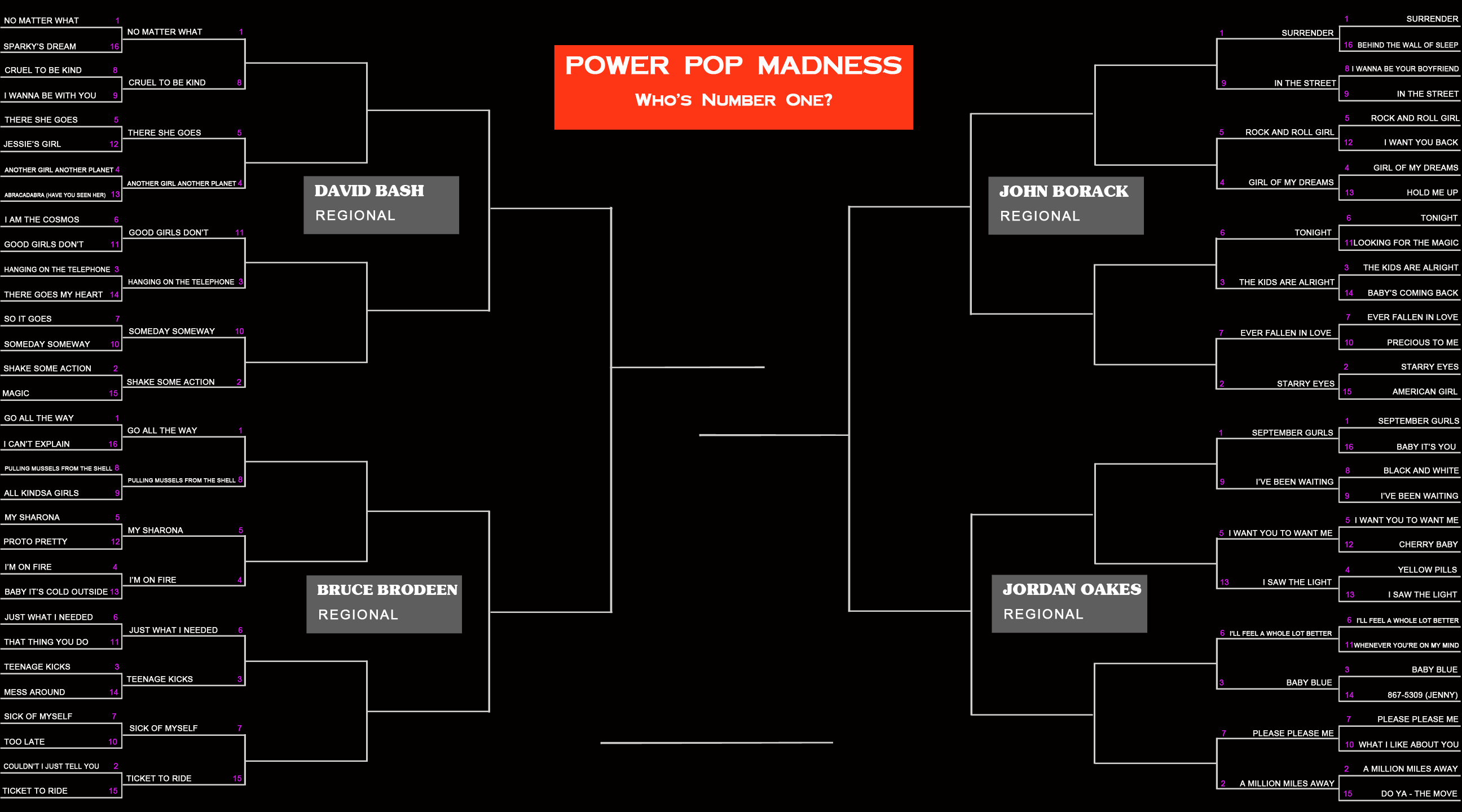 The Power Pop Bracket – Round Of 32
Hi music fans!
The Round Of 32 has ended!
The Sweet 16 is live!  Click here to vote.
Click here to listen and vote!
The voting for this round ended at Midnight on Monday, Feb. 20th.
The opening round saw most higher seeds advance, some by the slimmest of margins.  The highest seed to fall was 2-seed "Couldn't I Just Tell You" which fell to "Ticket To Ride" (#15).  Other double-digit seeds to advance were; "I Saw The Light" (#13),  Someday Someway (#10) and "Good Girls Don't" (#11).
Many good match-ups pepper the round of 32.
        * Borack Regional
                     #1 "Surrender" faces "In The Street" famous as the theme to "That '70's Show". Later covered by Cheap Trick!
                      #3 "The Kids Are Alright" versus "Tonight" should be a titanic battle.
         * Oakes Regional
                      The Byrds face Badfinger as "I'll Feel A Whole Lot Better" meets "Baby Blue".
                      "A Million Miles Away" will take on "Please Please Me". Can that Beatles song take out another Power Pop classic?
         * Brodeen Regional
                      Can #15 "Ticket To Ride" continue its run vs. "Sick Of Myself"?
                      The 4-5 match-up of "My Sharona" and "I'm On Fire" should be fascinating.
          * Bash Regional
                     "No Matter What" and "Shake Some Action" still seem destined to clash in the regional final.
                      I am really curious about the strength of "Hanging On The Telephone". Cinderella anyone?
The winners move on to the Sweet Sixteen!
To listen to the songs and vote, go here.
To simply vote, scroll down to the polls below.
Bash Regional
Brodeen Regional
Borack Regional
Oakes Regional