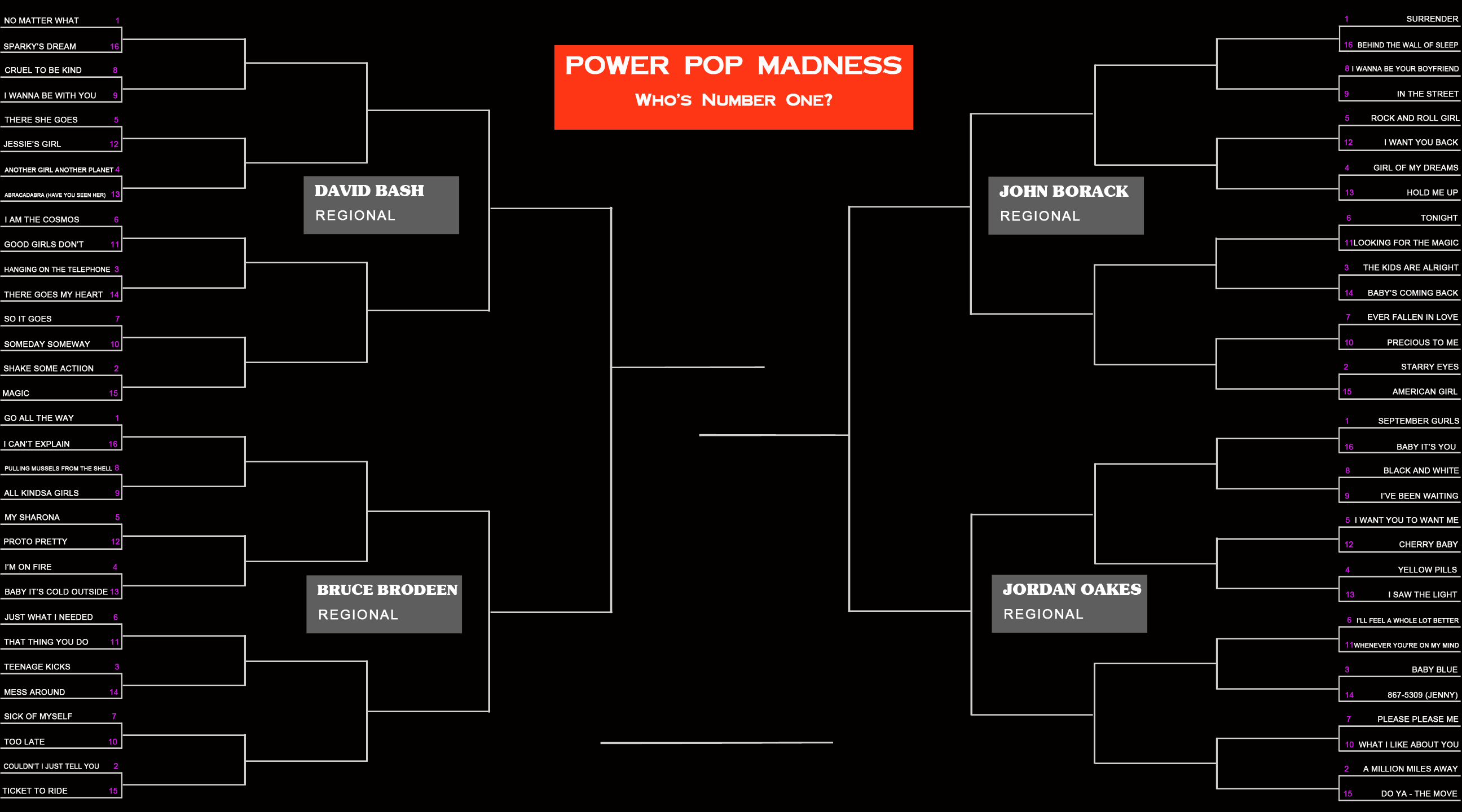 The Power Pop Bracket – Round Of 64
Hi music fans!
The Round Of 64 is now closed.
The Round of 32 is now live!  Click here to vote.
Click here to listen and vote!
The voting for this round ended at Midnight on Thursday, Feb. 16th.
I see some big match-ups in the first round.
     * Borack Regional
            #2 "Starry Eyes" faces a strong #15 seed in "American Girl"
            #3 "The Kids Are Alright" faces Power Pop darlings Jellyfish
     * Oakes Regional
            #7 "Please Please Me" faces a pure Power Pop stalwart: "What I Like About You"
     * Brodeen Regional
            Potential big upset: #2 seed Todd Rundgren faces the Beatles
            #1 seed and (#2 overall) Go All The Way faces the toughest #16 seed in "I Can't Explain"
            Favorite match-up visually: "I'm On Fire" vs. "Baby It's Cold Outside"
     * Bash Regional
            "No Matter What" and "Shake Some Action" seem destined to clash in the regional final.
            The closest match-up is #8 vs #9 "Cruel To Be Kind" vs. "I Wanna Be With You"
            I am really looking forward to see how this regional shakes out in the first round.
Here's a potential Second Round match-up:  #2 "Surrender"  (Cheap Trick) vs. "In The Street" which Cheap Trick covered.
To listen to the songs and vote, go here.
To simply vote, scroll down to the polls below.
Bash Regional
Brodeen Regional
Borack Regional
Oakes Regional